Zento Sushi -
Welcome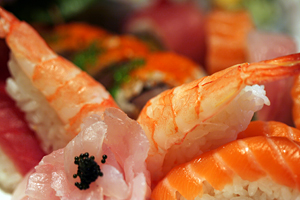 The Treasure of Île Perrot
Embark on a culinary journey to the hidden gem of ile Perrot. Nestled away on the island, just beyond the Galipeault Bridge, Zento Sushi boasts a newly renovated, simple, yet elegant decor.
Indulge in a tantalizing menu brimming with Asian flavors that will awaken your taste buds. From savory sushi rolls to succulent stir-fries, every bite will transport you to the faraway lands of the East. So come and discover the treasure of Île Perrot, where every meal is a journey of the senses."
Choose from a variety of appetizers like spring rolls, Tom Yum soup, Vege tempura, and our maritime salad. For your main dish, try our Ginger Shrimp or go for one of our house specialties like General Tao or Pad Thai Beef. But the real star of the show at Zento Sushi is our creative and fresh sushi dishes, presented with the artistic talent of our skilled chefs. Come dine with us for lunch or dinner and don't forget we offer takeout/delivery service as well. We can't wait to share the Zento experience with you!